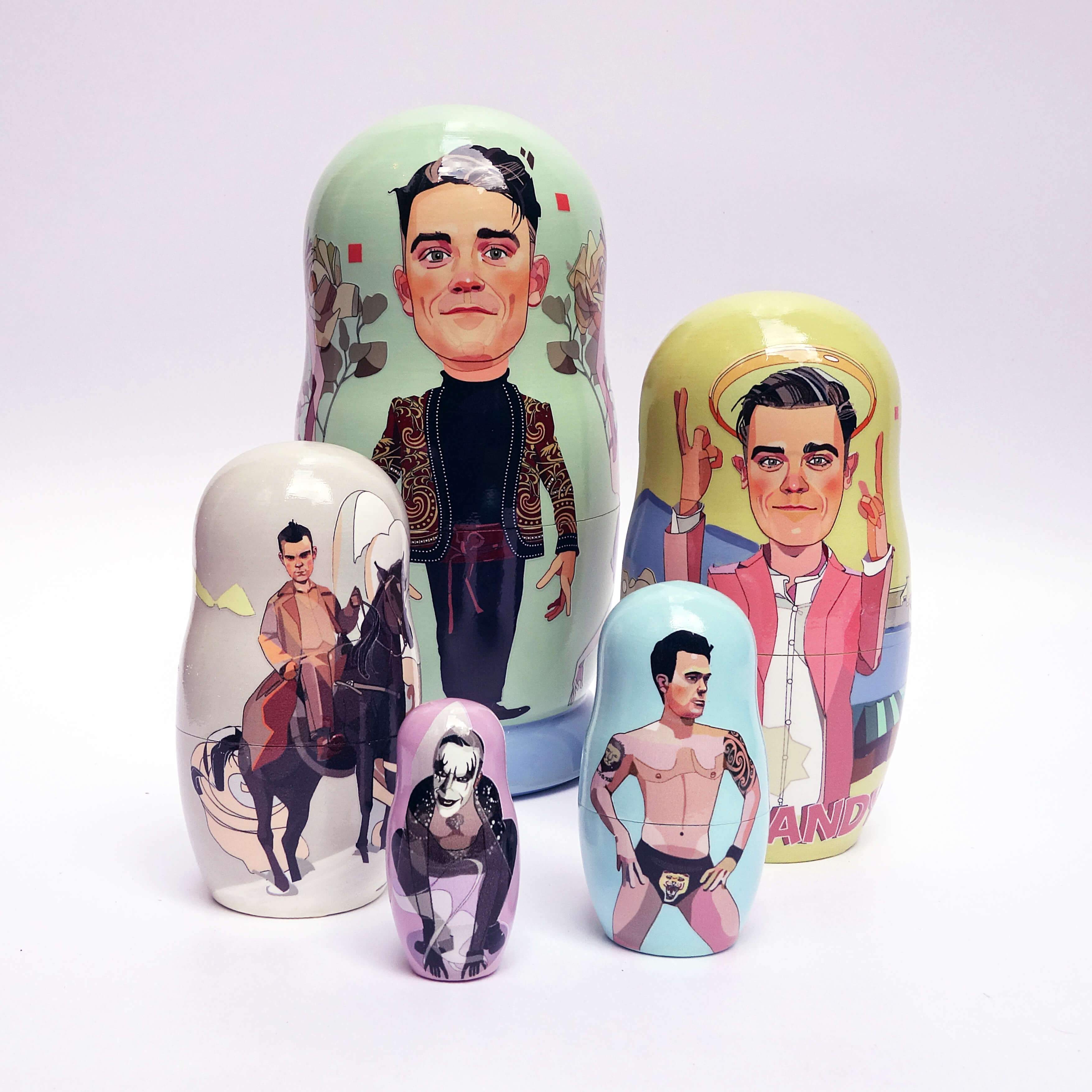 Ain't no refutin' or disputin': the latest addition to Robbie's PledgeMusic Store is a truly one-of-a-kind item.
Available to pre-order now, this stunning set of five Russian dolls has been specially produced to celebrate the release of Robbie's new single, Party Like A Russian. Crafted in an authentic St. Petersburg factory, only five hundred of these marvellous matryoshka have been created, making them super limited-edition.
Like the classic Russian doll, each of these high-quality wooden Robbies nests inside another, creating a complete set of five. Where this set departs from tradition though is in the design: each doll celebrates a single from Robbie's BRITs Icon Award-winning career, from Let Me Entertain You through Rock DJ, Feel and Candy, eventually arriving at his latest, Party Like A Russian.
These Russian dolls once stood as a linden tree in the vast forests of the Upper Volga region of Russia. Craftsmen there harvest the trees with cross-cut saws and let the wood cure for several years before they turn each piece by hand on a lathe. The dolls are then taken to a specialist workshop in St. Petersburg, where they are sanded and prepared for production.
An artist spent hours breathing life into this exclusive design, blending digitally-printed elements with hand-painting to create the stunning design you see here.
Finally, each doll is baptised multiple times in layers of high-gloss lacquer to make a matryoshka that will last a lifetime.
A limited run of 100 come with a hand-numbered note containing a lyric from the single, each one of which has been signed by Robbie himself.
The dolls will be available for delivery in mid-November, but are yours to pre-order now. They can be bought individually or as part of a bundle containing Robbie's forthcoming album, The Heavy Entertainment Show, which will also give you early access to tickets for Robbie's 2017 European tour dates when they go on sale.
End of discussion.
... inside a doll inside a dolly