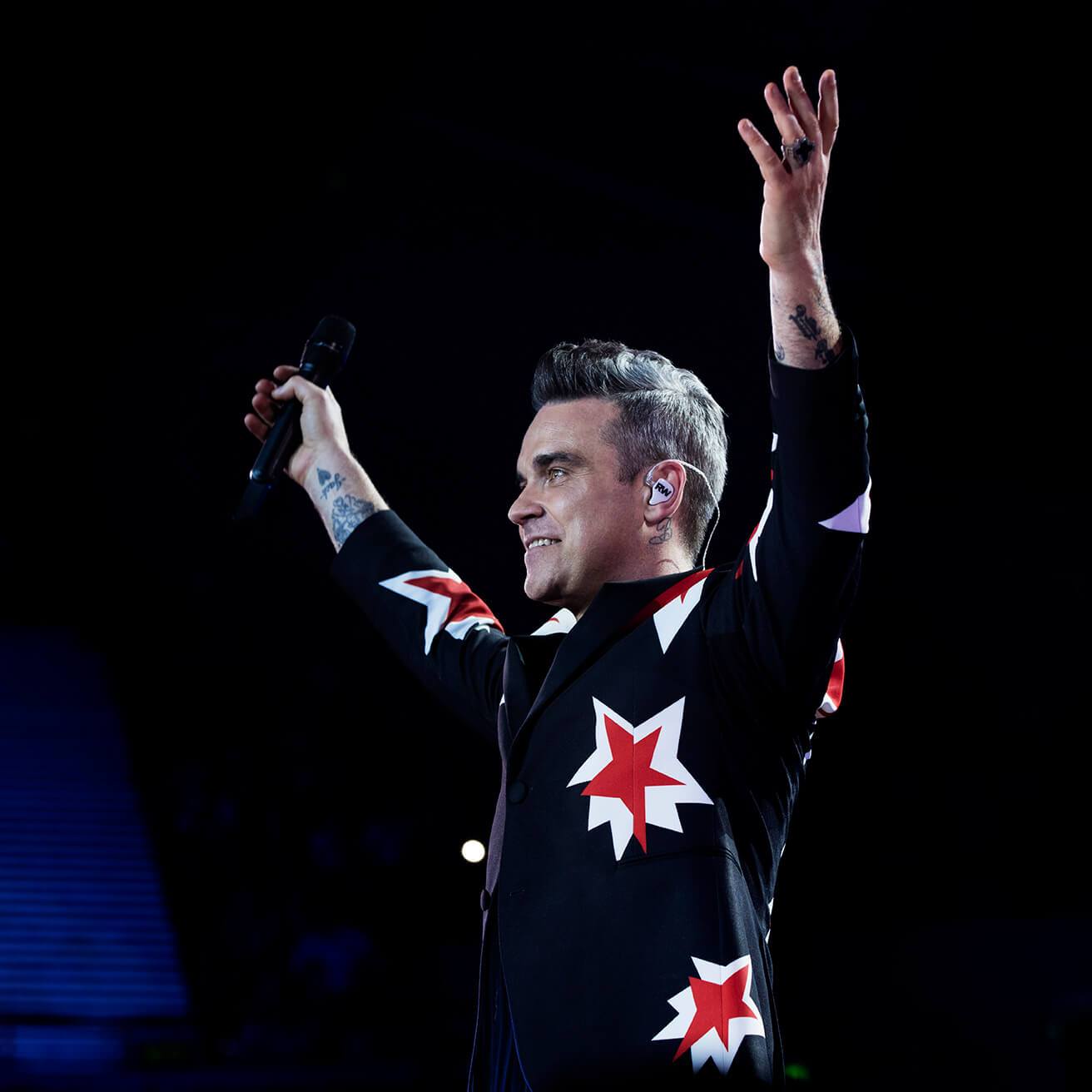 The long-awaited day has finally arrived: The Heavy Entertainment Show is officially out now!
Robbie's eleventh studio album is available as a CD or digital download in two editions: an 11-track album, or a deluxe version boasting five additional songs and three videos.
It's also available to listen to on your favourite streaming service right now.
Friendlies in the UK still have a couple of days to take advantage of early access to tour tickets when they go on sale next week.
Anyone buying the album through Amazon.co.uk by midnight on Sunday will have access to an exclusive pre-sale on Tuesday, while anyone ordering via PledgeMusic will gain entry to a pre-sale on Wednesday.
"Don't worry, Robbie's attitude is the only heavy thing on display here. Back to sharp, OTT pop, the lyrics are killer, the tunes fly in unexpected directions and Robbie is loving life again. Love My Life is Millennium II, Sensational is another Rock DJ... If you've ever loved Robbie, let him entertain you all over again and get ready to sing along at the stadiums next summer."
- Daily Star
'Since he tumbled off the Take That bus... there's been no question that Robbie Williams on full power is a potent pop force. The Heavy Entertainment Show aims to impress from the off. 'Welcome to the heavy entertainment show / I'm about to strip, and you're my pole,' he blares on his 11th album's title track, a blast of Los Angeles horns and one-liners. The magic ingredients are the familiar, mixed-up qualities of Robbie himself: deep and trivial, funny and serious, disposable yet unmistakably sticking around'
- The Mail On Sunday
The deluxe edition of the album boasts an additional five tracks along with no less than three videos:
1. The official video for the first single, Party Like A Russian
2. A behind-the-scenes look at the making of Party Like A Russian
3. A 32 minute track-by-track interview, in which Robbie reveals all about his new album
'The Heavy Entertainment Show sees Robster team up with songwriters including Ed Sheeran and his old pal Guy Chambers. It's loud, proud and packed full of bravado'
- Star
Robbie explains the title of his highly-anticipated new album as a loving ode to an era he remembers fondly: 'I grew up in a time when light entertainment was king. I wanted to do some heavy entertainment. I wanted to do light entertainment but on steroids. So it's a play on me taking the piss out of light entertainment. But in a loving way."
The first single from the album was the 'mad ballet', Party Like A Russian. Sitting in second place on the track listing, after the bombastic opening title track, Party Like A Russian is a celebration of the spirit of hedonism.
"Feels both nostalgic and current - each song is unapologetically Robbie from every pore, and overflows with his trademark self-awareness. Bookended by the theatrical opening title track and closing number Sensational, Robbie showcases ballads, the odd rocky number and the stomping pop tunes he's been famous for for the best part of 20 years."
- Heat
The second single taken from The Heavy Entertainment Show is Love My Life, a message of self-empowerment from Robbie to Ayda, his kids, himself and all of us.
That message?
'Give yourself some love. Believe in yourself. If you can't be confident, be brave.'
The second single will be officially released soon. Stay tuned to RobbieWilliams.com to see the official video as soon as it lands.
'His 11th solo effort is a remarkable return to form, and showcases exactly what the Robster does best - cheeky lyrics, cheeky delivery and general fun for all. The tunes are rather brilliant, too'
- New!
If you've already got The Heavy Entertainment Show on repeat, head to the Upfront forum to let Robbie know what you think!